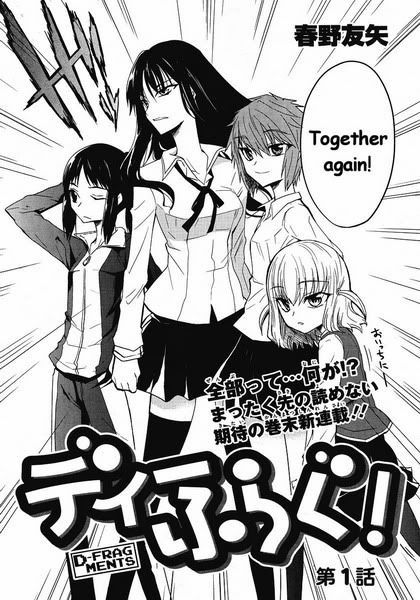 Title:
D-Frag!
Author: Haruno Tomoya
Release: Monthly
Status: Ongoing
Genre: Comedy, Slice of Life
Art: B
Originality: A
Story: B
Characters: A
Humor: A
Action: B
Impression: This is the story of a guy who believes himself to be a top class delinquent but then one day he finds a group of girls doing weird acts in a room as part of their club activities. He and his pals get roped into the room by this clubs and his buddies get taken out by the girls. Each girl has a pun on their names to represent their various elements and they corner him into joining the club. The humour in this manga is rather over the top and silly so it's very difficult not to chuckle at least once while reading this. The guy is a delinquent playing the straightman role and him being always being one upped by the girls is one of the main sources of entertainment here. It's relatively new in the scanlating world but I'm eagerly awaiting the next chapter.