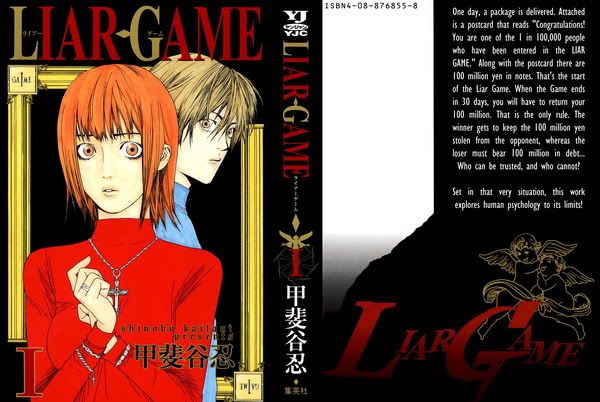 Title:
Liar Game
Author: Kaitani Shinobu
Release: Weekly
Status: Ongoing
Genre: Psychological, Mystery
Art: C
Originality: A
Story: A
Characters: B
Humor: B
Action: A
Impression: This manga is about a girl who gets into a shady tournament where huge amounts of money are at risk and losing would mean suffering as much as 100 million yen in debt. In order to make up for a blunder caused by her naivety, our main character seeks help from a man who recently got out of jail on charges of defrauding a massive conglomerate. The both of them must now figure out a way to keep themselves out of debt while investigating the true nature of the liar game. This is an incredible manga that I avoided simply because of the art but that might have been a blessing in disguise because it was still early in its life. By that I mean you really want to wait for a whole bunch of chapters for an arc are done otherwise you'll hanging onto these really, really suspenseful cliffhangers every week. There are plenty of twists in this manga but the only occasion where I wasn't able to follow it was during the team match at the airport which was REALLY confusing – I don't understand what they did exactly to win even now. I absolutely love the games in these ones and would love to take part in an actual event like those of the liar game - sans the risk of debt of course. Basically you'll love this manga if you enjoy strategy games or psychological warfare but you'll most likely be confused at some of these strategies the characters use.