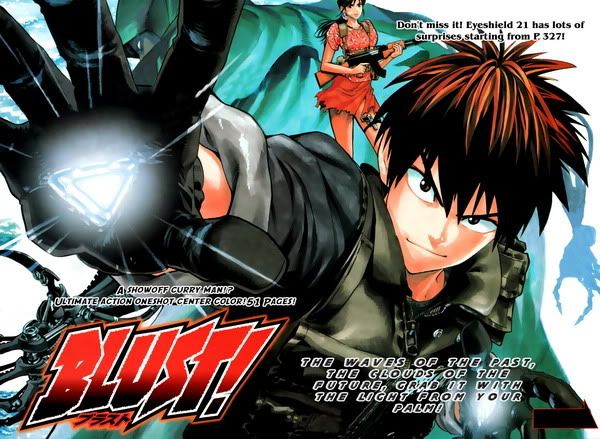 Title:
Blust
Author: Yusuke Murata
Release: Oneshot
Status: Finished
Genre: Shonen, Sci-Fi
Art: A
Originality: B
Story: B
Characters: A
Humor: B
Action: A
Impression: This story features a young mercenary who has undergone some mad experiments and come out alive with curry-powered nuclear blasting hands. Yes, nuclear energy somehow comes from curry in this story. This is a oneshot by the artist behind the Eyeshield21 manga and it was done during while it was still being serialized. By the time it was published however, the manga was getting too damn repetitive even though it was on its last few chapters. I liked Eyeshield21 up till the Christmas bowl but everything after that was simply staleness being recycled over and over again. That's why it was completely refreshing to see that they were still able to come up with a oneshot as good as this. The dynamic art style is perfect for battle scenes and based on the great mix of humor, plot and action I found in here, these guys could come up with a really good shonen battle manga in the future. I'm hoping that it'll happen soon.