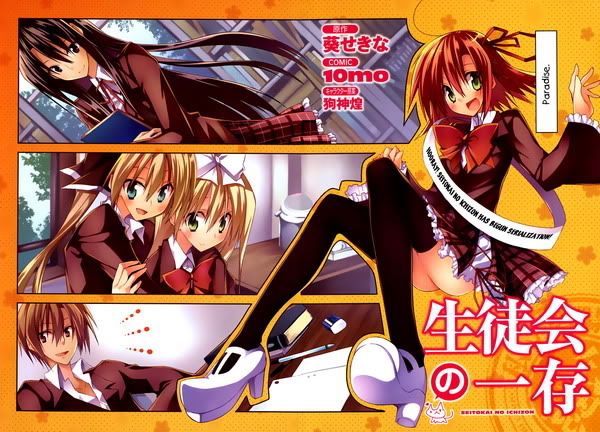 Title:
Seitokai no Ichizon
Author: Aoi Sekina, Inugami kira, 10mo
Release: Monthly
Status: Ongoing
Genre: Slice of Life, Comedy, Harem
Art: B
Originality: B
Story: C
Characters: B
Humor: B
Action: C
Impression: This is the manga adaptation of the Seitokai no Ichizon novels. It's about a five-man student council who consist of a loli, a tomboy, a fujoshi, an femme fatale and the only guy in the council, a guy who declares he's aiming for a harem ending with the rest of them. I certainly enjoyed the anime for its great comedy and its surprising character depth but the manga lacks the quality that made it so endearing. To clarify, a good deal of the humor doesn't match up to the anime even though the jokes and references are essentially the same while the characterization just isn't there. If you haven't watched the anime then you don't really have much of reason to check it out and if you have, you don't have much of a reason to stick with it. No idea about the novel readers though.