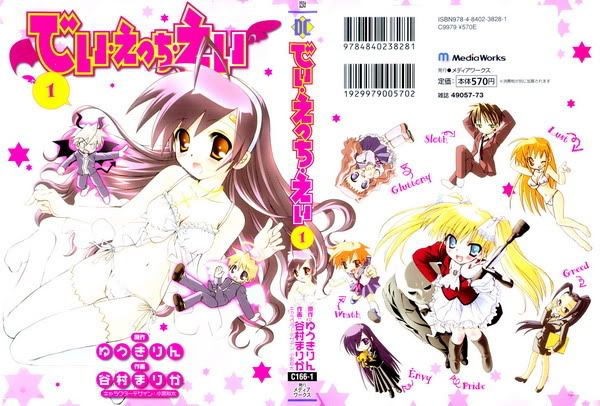 Title:
Dei Ecchi Ei
Author: Yuuki Rin, Tanimura Marika
Release: Monthly
Status: Finished
Genre: Ecchi, Romance, Comedy
Art: B
Originality: B
Story: C
Characters: C
Humor: C
Action: C
Impression: This is a manga where a girl in love who by decree of the heavens has to make love to the saintly human reincarnation of Lucifer to prevent his awakening. She herself is a typical shy girl in love who is embarrassed just by the thought of doing the deed and even has to contend with the human incarnations of the 7 deadly sins that attempt to awaken the boy by committing sins. I am somewhat impressed by the fact that I read this from start to finish even though I had plenty of other series on my reading list but that was probably because I was intrigued by how Sloth would get the guy to commit the sin. The method wasn't as intriguing as I thought it'd be but by then I was more than halfway into the manga so I just finished it off. The characters, plot and jokes are very uninspired with a lot of fanservice thrown for any number of reasons and the whole thing comes up as mediocre at best. Still, it seems that my friends enjoyed it so it most likely appeals to certain groups of people.